SCIENCE INSPIRED BY NATURE†
LITTLE STEPS® First Infant Milk
A nutritionally complete* formula milk suitable from birth, it can be used for those infants who are not being breastfed or those who are being combination fed.
Product description
---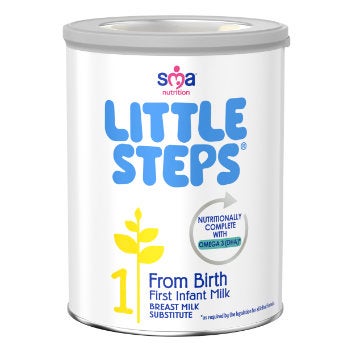 Nutritionally complete as required by the legislation for all infant formula

Contains Omega 3 (DHA) as required by legislation for all infant formula
Contains 1.5 µg of Vitamin D per 100ml**
The first 1,000 days of a baby's life have a life-long impact on many aspects of future health.
LITTLE STEPS® is designed to provide baby with a balanced nutritional foundation.
Halal Certified
Good To Know
**The Food Safety Authority of Ireland (FSAI) recommends that babies should not be given a daily vitamin D supplement if they are having more than 300ml (about 10 fluid ounces) of infant formula a day. This is because infant formula is fortified with vitamin D and other nutrients.1
Formats
---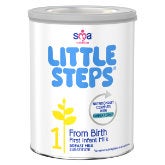 800 g Powder
The scoop is provided under the lid. It can be stored in suspension inside the can.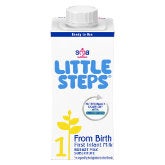 Liquid Milk (200 ml carton)
Ready to Use resealable carton, which is easy to pour and can be kept in the fridge (5˚C or below) for up to 24 hours.
Preparation
---
Information for you to give to parents
How to open and prepare your baby's feed – powder (800 g)
While this product is made under strict hygienic conditions, it is not sterile. Failure to follow instructions on preparation and storage may make your baby ill.

1.
Pull the safety seal and open the lid. The scoop is provided under the lid. Lift the tab, pull on the foil seal, carefully and safely remove the seal and dispose of it.

2.
Wash hands well. Wash and sterilise all utensils according to manufacturers' instructions.

3.
Boil 1 litre of fresh tap water. Allow boiled water to cool for no more than 30 minutes. Measure the required amount of water (see feeding guide) into a sterilised bottle, carefully – the water is hot. Do not use artificially softened or repeatedly boiled water.

4.
Using only the scoop provided, add the correct number of scoops of powder (see feeding guide), levelling off each scoop with the back of a clean, dry knife. Store the scoop in suspension inside the can and replace lid.

5.
Place the sterilised teat and cap on the bottle and shake well until powder is fully dissolved. Cool bottle under cold running water or in a bowl or jug of cold water until lukewarm, do not immerse the teat. Test temperature by shaking a few drops onto the inside of your wrist.
Useful helpsheets for you to share with parents: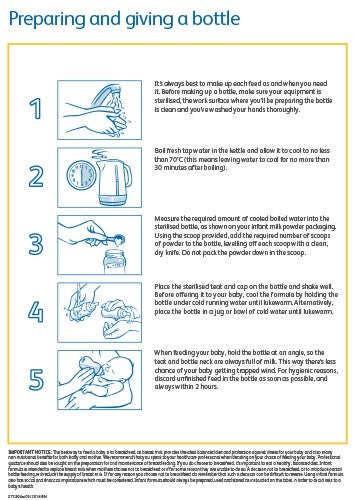 Preparing and giving a bottle
This downloadable helpsheet is available in multiple languages.
Find out more
Feeding guide
---
Information for you to give to parents
Feeding guide – powdered milk
Feeding guide birth – 12 months

Approx. age of baby

Approx. weight of baby

Preparation for single feeds

Feeds in 24 hours

 

Cooled, freshly boiled water

kg

lb

Level scoops

ml

fl. oz. (approx.)

Birth – 2 weeks

3.4

7½

3

90

3

6

2 – 4 weeks

3.7

8

4

120

4

6

4 – 8 weeks

4.2

9¼

4

120

4

6

2 months

5.3

11¾

5

150

5

5

3 months

6.1

13½

6

180

6

5

4 months

6.7

14¾

6

180

6

5

6 months

7.6

16¾

8

240

8

4

7 – 12 months

-

-

7

210

7

3
This table is a guide only; a baby may need more or less than the volumes stated. Caregivers should consult their healthcare professional if more advice is needed. Remember, a baby should be fed on demand.
Mix 1 scoop of powder to 30 ml (approx. 1 fl. oz.) of water. Approx. 177 scoops per can (applicable to 800 g can only). 1 scoop = 4.5 g.
Important feeding information
---
Information for you to give to parents
LITTLE STEPS® First Infant Milk powder – 800 g
| | |
| --- | --- |
|   | Do not add extra powder or water to make the feeds stronger or weaker and do not press powder into scoop. Using too much or too little powder can make your baby ill. |
|   | We recommend preparing each feed in individual beaker/bottles when required. |
|   | For hygienic reasons, discard unfinished feed in the beaker/bottle as soon as possible. |
|   | Made-up formulae can be poured over cereals and mixed with food. |
|   | Do not alter or add to formulae unless medically directed. |
|   | Do not warm feeds in a microwave, hot spots may occur and cause scalding. |
|   | Remember, cows' milk should not be used as a drink during the first year. |
† Find out more about the science here and a comprehensive list of references is available on request via SMA Careline®
DHA, docosahexaenoic acid.
*As required by the legislation for all infant formula
IMPORTANT NOTICE: 
The World Health Organisation (WHO) has recommended that pregnant women and new mothers be informed on the benefits and superiority of breastfeeding – in particular the fact that it provides the best nutrition and protection from illness for babies. Mothers should be given guidance on the preparation for, and maintenance of, lactation, with special emphasis on the importance of a well-balanced diet both during pregnancy and after delivery. Unnecessary introduction of partial bottle-feeding or other foods and drinks should be discouraged since it will have a negative effect on breastfeeding. Similarly, mothers should be warned of the difficulty of reversing a decision not to breastfeed. Before advising a mother to use an infant formula, she should be advised of the social and financial implications of her decision: for example, if a baby is exclusively bottle-fed, more than one can (400 g) per week will be needed, so the family circumstances and costs should be kept in mind. Mothers should be reminded that breast milk is not only the best, but also the most economical food for babies. If a decision to use an infant formula is taken, it is important to give instructions on correct preparation methods, emphasising that unboiled water, unsterilised bottles or incorrect dilution can all lead to illness.