SCIENCE INSPIRED BY NATURE
SMA® Comfort
Food for Special Medical Purposes
SMA® Comfort is a nutritionally complete, easy to digest formula1, suitable from birth to 12 months. For the dietary management of colic and constipation. This product should be used under medical supervision.
SMA® Comfort is a unique combination of ingredients proven to help manage symptoms of colic and constipation.1-6
This new formulation is a thicker formula, it may require a fast flow teat. Do not use with other food thickeners or antacids.
Product description
---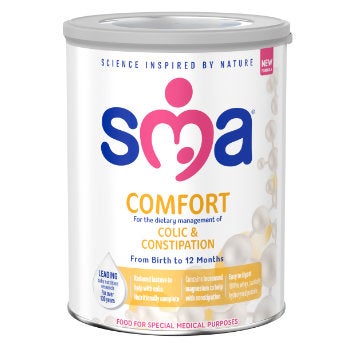 SIGNIFICANT IMPROVEMENT IN STOOL CONSISTENCY
Associated with increased Magnesium levels2-4*

REDUCED CRYING TIME IN INFANTS WITH COLIC
Associated with lower lactose levels5**†

AN INCREASE IN BENEFICIAL BACTERIA IN THE INFANT GUT MICROBIOME
Due to the presence of GOS FOS6

EASY TO DIGEST
Contains 100% whey, partially hydrolysed protein which is easier to digest than intact protein1
The first 1,000 days of a baby's life have a life-long impact on many aspects of future health.
Up to 55% of babies experience tummy troubles in the first few weeks and months of life. This is thought to be caused by an immature gut7. Although this rarely affects growth, it can be distressing for parents and babies.
SMA® Comfort contains increased magnesium levels to help with significant improvements in stool consistency.2-4
The growth pattern of a breastfed baby is associated with improved health outcomes8. Breastfed babies tend to grow more slowly than bottle-fed babies9. Protein is one of the main drivers of growth and the quantity and quality of protein in breast milk is ideal to support appropriate growth. SMA® Comfort is the lowest protein Comfort milk in the UK & I, now containing 1.2g/100ml.10-14

Increased magnesium levels2-4

Partially hydrolysed, 100% whey protein

Reduced lactose Contains GOS & FOS
*Magnesium level remains within regulatory limits of infant FSMP Delegated regulation (EU) 2016/128 for food for special medical purposes.
** Where lactose intolerance is a cause of the colic.
†SMA® Comfort has a lactose level that is 35% lower than SMA® PRO First Infant Milk.
Formats
---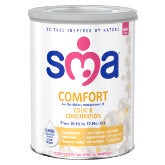 800 g powder
Available to purchase in supermarkets and pharmacies
PIP code (UK only) 416-5593
Nestle Supplier code: 12458581
Comparison charts
---
|   | SMA® Comfort10 | Aptamil Comfort11 | Cow & Gate Comfort12 | Hipp Combiotic Organic Comfort13 | Kendamil Comfort14 |
| --- | --- | --- | --- | --- | --- |
| Magnesium level (mg/100ml)2-4 | 8.1 | 5.1 | 5.1 | 4.5 | 7.1 |
| Whey dominant protein |   |   |   |   |   |
| Protein (g/100ml) | 1.2 | 1.5 | 1.5 | 1.25 | 1.53 |
| GOS & FOS |   |   |   | GOS only |   |
| Thickener |   |   |   |   |   |
Preparation
---
Information for you to give to parents
How to open and prepare your baby's feed
Whilst this product is made under strict hygienic conditions, it is not sterile. Failure to follow instructions on preparation and storage may make your baby ill.

1.
Pull the safety seal and open the lid. The scoop is provided under the lid. Lift the tab, pull on the foil seal, carefully and safely remove the seal and dispose of it.

2.
Wash hands well. Wash and sterilise all utensils according to manufacturers' instructions.

3.
Boil 1 litre of fresh tap water. Allow boiled water to cool for no more than 30 minutes. Measure the required amount of water (see feeding guide) into a sterilised bottle, carefully – the water is hot. Do not use artificially softened or repeatedly boiled water.

4.
Using only the scoop provided, add the correct number of scoops of powder (see feeding guide), levelling off each scoop with the back of a clean dry knife. Store the scoop in suspension inside the can and replace lid.

5.
Place the sterilised teat and cap on the bottle and shake well until powder is fully dissolved. Cool bottle under cold running water or in a bowl or jug of cold water until lukewarm, do not immerse the teat. Test temperature by shaking a few drops onto the inside of your wrist.
SMA® Comfort is a thicker formula and may require a fast flow teat.
Do not use with other food thickeners or antacids
Feeding guide
---
Information for you to give to parents
Feeding guide for birth – 12 months

Approx. age of baby

Approx. weight of baby

Preparation for single feeds

Feeds in 24 hours

 

Cooled, freshly boiled water

kg

lb

Level scoops

ml

fl. oz. (approx.)

Birth – 2 weeks

3.4

7½

3

90

3

6

2 – 4 weeks

3.7

8

4

120

4

6

4 – 8 weeks

4.2

9¼

4

120

4

6

2 months

5.3

11¾

5

150

5

5

3 months

6.1

13½

6

180

6

5

4 months

6.7

14¾

6

180

6

5

6 months

7.6

16¾

8

240

8

4

7 – 12 months

-

-

7

210

7

3
This table is a guide only; a baby may need more or less than the volumes stated. Caregivers should consult their healthcare professional if more advice is needed. Remember, a baby should be fed on demand.
Mix 1 scoop of powder to 30 ml (approx 1 fl. oz.) of water. Approx. 190 scoops per can. 1 scoop = 4.2 g.
Important feeding information
---
SMA® Comfort powder – 800 g can
| | |
| --- | --- |
|   | Do not add extra powder or water to make feeds stronger or weaker and do not press powder into scoop. Using too much or too little powder can make your baby ill. |
|   | We recommend preparing each feed in individual bottles when required. |
|   | For hygienic reasons, discard unfinished feed in the bottle as soon as possible. |
|   | For older babies, made-up formulae can be added to food but not heated. |
|   | For enteral use only |
|   | Do not alter or add to formulae unless medically directed. |
|   | Do not warm feeds in a microwave as it will cause milk to thicken, and hot spots may occur and cause scalding. |
|   | Remember, cows' milk should not be used as a drink during the first year. |
|   | Do not use with other food thickeners or antacids |
References
Billeaud C et al. Gastric emptying in infants with or without gastro-oesophageal reflux according to the type of milk. Eur J Clin Nutr 1990; 44: 577–583.

Chao et al. Therapeutic effect of Novalac-IT in infants with constipation. Nutrition 2007;23:469–473.

Infante et al. Modification of stool's water content in constipated infants: management with an adapted infant formula. Nutrition Journal 2011; 10:55-8.

Benninga MA; MENA Infant Constipation Study Group, Vandenplas Y. The Magnesium-Rich Formula for Functional Constipation in Infants: a Randomized Comparator-Controlled Study. Pediatric Gastroenterology Hepatology and Nutrition 2019 May;22(3):270-281.

Kanabar D et al. Improvement of symptoms in infant colic following reduction of lactose load with lactase. J Hum Nutr Dietet 2001; 14: 359-363.

Moro G, et al. Dosage-related bifidogenic effects of galacto- and fructooligosaccharides in formula-fed term infants. J Pediatr Gastroenterol Nutr. 2002 Mar;34(3):291-5.

Iacono G et al. Dig liver Dis 2005; 37: 432-438.

WHO Multicentre Growth Reference Study Group. Acta Paediatr Suppl 2006; 450: 76–85.

Kramer MS et al. Feeding effects on growth during infancy. J Pediatr 2004; 145: 600–5.

SMA® Comfort datacard (March 2023). Available at www.smahcp.ie

Aptamil Comfort nutritional information. Available at https://www.nutricia.co.uk/hcp/pim-products/aptamil-comfort.html Accessed May 2023.

Cow & Gate Comfort nutritional information. Available at https://www.nutricia.co.uk/hcp/pim-products/cow-gate-comfort.html Accessed May 2023

Hipp Comfort datacard (2020). Available at https://www.hipp4hcps.co.uk/resources/helpsheets/data-sheets/ Accessed May 2023.

Kendamil Anti Colic soon to be Kendamil Comfort. Available at https://hcp.kendamil.com/product/anti-colic-infant-milk-800g/#. (Accessed May 2023)

Infante D et al. World J Gastroenterol 2011; 17: 2104–2108.
IMPORTANT NOTICE:
We believe that breastfeeding is the ideal nutritional start for babies as breast milk provides a balanced diet and protection against illness for a baby. We fully support the World Health Organization's recommendation of exclusive breastfeeding for the first six months of life followed by the introduction of adequate nutritious complementary foods along with sustained breastfeeding up to two years of age. We also recognise that breastfeeding may not be an option due to certain medical conditions. Parents should only feed Infant formula for special medical purposes under supervision of a healthcare professional after full consideration of all feeding options, including breastfeeding. Continued use must be assessed by the healthcare professional in relation to the baby's progress bearing in mind any social and financial implications for the family. Infant formula should always be prepared, used and stored as instructed on the label in order to avoid risks to a baby's health. This product must be used under medical supervision. SMA® Comfort is a special formula intended for the dietary management of bottle-fed babies with colic and constipation. It is suitable as the sole source of nutrition up to 6 months of age, and in conjunction with solid food up to 12 months of age.