SCIENCE INSPIRED BY NATURE
SMA Alfamino® - Amino Acid Formula
For the dietary management of moderate to complex cows' milk allergy (CMA) and/or multiple food allergies. SMA Alfamino is a food for special medical purposes for use under medical supervision.
Product description
---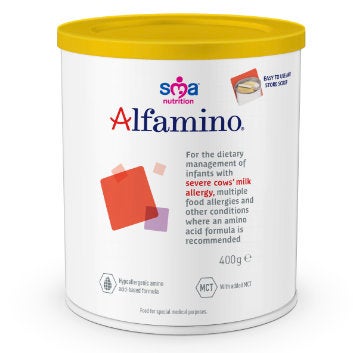 Severe symptom management1,2

Support digestion and malabsorption5-7
SMA® Alfamino® is a hypoallergenic (non-allergenic) amino acid formula for the dietary management of severe cows' milk allergy (CMA) and/or multiple food protein allergies (MFPA) and other conditions where an amino acid is recommended. This formula is designed to provide first-line formula relief from the symptoms associated with severe CMA and/or MFPA1,4. It can also be used in the dietary management of those infants who experience no symptom improvement on extensively hydrolysed formulas (eHFs).1-2,8
SMA® Alfamino® is nutritionally complete from birth and supplementary feeding from 6 months to 3 years of age and formulated to support growth, tolerance and absorption in the most challenging allergy conditions.1-2,9
Halal Certified and Suitable for vegetarians
more information on Alfamino®
more information on about cows' milk allergy
References
Nowak-Wegrzyn A et al. Clin Pediatr 2015; 54(3): 264–272.

NHSc, Clinical Audits & Service Reviews: Leeds General Infirmary & Manchester Children's hospital. Data on file.

Bar-Yoseph F et al. Plefa 2013; 89(4): 139–143.

Marten B et al. International Dairy Journal 2006; 16: 1374–1382.

Nutritional information from product datacards: Puramino®, Neocate LCP®, Elecare and Neocate Syneo®. October 2021.

Maslin, K. et al. Pediatr Allergy Immunol 2018; 29(8): 857–862

Luyt D et al. Clin Exp Allergy 2014; 44: 642–672.

Corkins M et al. Pediatrics 2016; 10: 3–9.
IMPORTANT NOTICE: 
Mothers should be encouraged to continue breastfeeding even when their infants have cows' milk protein allergy. This usually requires qualified dietary counselling to completely exclude all sources of cows' milk protein from the mothers' diet. If a decision to use a special formula intended for infants is taken, it is important to give instructions on correct preparation methods, emphasising that unboiled water, unsterilised bottles or incorrect dilution can all lead to illness. Formula for special medical purposes intended for infants must be used under medical supervision. For healthcare professionals only.