SCIENCE INSPIRED BY NATURE†
SMA® Soya Infant Formula
A nutritionally complete* soya-protein based infant formula, suitable from birth and designed for cows' milk protein intolerant babies.
Product description
---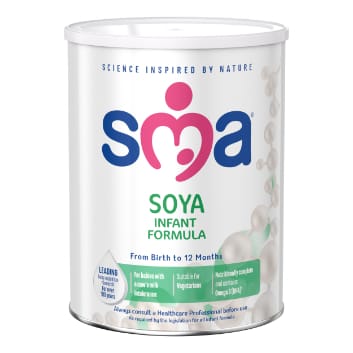 The only soya-protein based infant formula available in Ireland

Halal certified and Suitable for vegetarians

Nutritionally complete as required by legislation for all infant formula
As of May 2022, SMA® Wysoy® Soya Infant Formula will have a name change to SMA® Soya Infant Formula.
Our unique formulation will remain the same.
The first 1,000 days of a baby's life have a life-long impact on many aspects of future health.
Protein is vitally important for a baby's growth. Therefore, if a baby is intolerant to cows' milk, an alternative must be found.
The BDA and FSAI state that soya infant milk may be used for babies from 6 months with cows' milk protein allergy/lactose intolerance when soya is being used /considered for the weaning diet. They also acknowledge it may be used in babies younger than 6 months who refuse extensively hydrolysed milk, vegan mothers, and infants with galactosaemia.1,2
Galactosaemia is a rare inherited disorder which prevents the body breaking down the sugar galactose, found in milk. Babies with Galactosaemia require a galactose-free diet for life. Since both breast milk and standard infant formula milks contain galactose in the form of lactose then these must be excluded in the diet. Soya-based infant formula does not contain lactose (galactose) and is a safe choice for babies with galactosaemia.
Read the Galactosaemia Support group UK statement here.
Find out more about weaning in galactosaemia here
Available to purchase in supermarkets and pharmacies, or on prescription
PIP codes (UK only): 408-6567 (800 g can)
Supplier code (Ireland only): 12383343
Halal Certified. Suitable for vegetarians.
Formats
---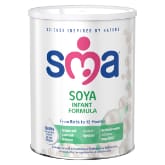 800 g powder
Available to purchase in supermarkets and pharmacies.  
Also available on prescription and GMS.
Supplier code (Ireland only): 12383343
Preparation
---
Information for you to give to parents
How to open and prepare your baby's feed
Whilst this product is made under strict hygienic conditions, it is not sterile. Failure to follow instructions on preparation and storage may make your baby ill.

1.
Pull the safety seal and open the lid. Lift the tab, pull on the foil seal, carefully and safely remove the seal and dispose of it. The scoop is provided under the foil seal.

2.
Wash hands well. Wash and sterilise all utensils according to manufacturers' instructions.

3.
Boil 1 litre of fresh tap water. Allow boiled water to cool for no more than 30 minutes. Measure the required amount of water (see feeding guide) into a sterilised bottle, carefully – the water is hot. Do not use artificially softened or repeatedly boiled water.

4.
Using only the scoop provided, add the correct number of scoops of powder (see feeding guide), levelling off each scoop with the back of a clean dry knife. Replace plastic lid on can.

5.
Place the sterilised teat and cap on the bottle and shake well until powder is fully dissolved. Cool bottle under cold running water or in a bowl or jug of cold water until lukewarm, do not immerse the teat. Test temperature by shaking a few drops onto the inside of your wrist.
Feeding guide
---
Information for you to give to parents
Feeding guide birth – 12 months

Approx. age of baby

Approx. weight of baby

Preparation for single feeds

Feeds in 24 hours

 

Cooled, freshly boiled water

kg

lb

Level scoops

ml

fl. oz. approx.

Birth – 2 weeks

3.4

7½

3

90

3

6

2 – 4 weeks

3.7

8

4

120

4

6

4 – 8 weeks

4.2

9¼

4

120

4

6

2 months

5.3

11¾

5

150

5

5

3 months

6.1

13½

6

180

6

5

4 months

6.7

14¾

6

180

6

5

6 months

7.6

16¾

8

240

8

4

7 – 12 months

-

-

7

210

7

3
This table is a guide only; a baby may need more or less than the volumes stated. Caregivers should consult their healthcare professional if more advice is needed. Remember, a baby should be fed on demand.
Mix 1 scoop of powders to 30 ml (approx 1 fl. oz.) of water. Approx. 186 scoops per can. 1 scoop = 4.3 g.
Important feeding information
---
Information for you to give to parents
SMA® Soya Infant Formula powder – 800 g can
| | |
| --- | --- |
|   | Do not add extra powder or water to make feeds stronger or weaker and do not press powder into scoop. Using too much or too little powder can make your baby ill. |
|   | We recommend preparing each feed in individual bottles when required. |
|   | For hygienic reasons, discard unfinished feed in the bottle as soon as possible. |
|   | For older babies, made-up formulae can be added to food and used in cooking. |
|   | Suitable for babies, children and adults. |
|   | Cows' milk protein free, lactose free and sucrose free. |
|   | For enteral use only. |
|   | Do not alter or add to formulae unless medically directed. |
|   | Do not warm feeds in microwave, hot spots may occur and cause scalding. |
References
Paediatric Specialist Group Position Statement: Use of Infant Formulas based on Soy Protein. The British Dietetic Association, Update April 2019.

Best Practice for Infant Feeding in Ireland. Food Safety Authority of Ireland, 2012.
† Find out more about the science here and a comprehensive list of references is available on request via SMA Careline®
BDA, British Dietetic Association
FSAI, Food Safety Authority of Ireland
* As required by the legislation for all infant formula.
IMPORTANT NOTICE: 
We believe that breastfeeding is the ideal nutritional start for babies and we fully support the World Health Organization's recommendation of exclusive breastfeeding for the first six months of life followed by the introduction of adequate nutritious complementary foods along with continued breastfeeding up to two years of age. We also recognise that breastfeeding is not always an option for parents. We recommend that healthcare professionals inform parents about the advantages of breastfeeding. If parents choose not to breastfeed, healthcare professionals should inform parents that such a decision can be difficult to reverse and that the introduction of partial bottle-feeding will reduce the supply of breast milk. Parents should consider the social and financial implications of the use of infant formula. As babies grow at different rates, healthcare professionals should advise on the appropriate time for a baby to begin eating complementary foods. Infant formula and complementary foods should always be prepared, used and stored as instructed on the label in order to avoid risks to a baby's health. SMA® Soya milk‑free formula is intended to meet the nutritional needs of babies and children who are intolerant to cows' milk protein, lactose or sucrose. Soya infant formulae are not recommended for preterm babies, those with kidney problems, or those with suspected or confirmed soya allergy, where medical guidance should always be sought.