SCIENCE INSPIRED BY NATURE
SMA® ADVANCED Growing Up Milk
Specially designed to help support the developing immune system1-4
A fortified growing up milk suitable for toddlers from the 12 months onwards as part of a healthy, balanced diet. The first growing up milk to contain our unique clinically proven blend of 5 HMOs (2'FL, DFL, LNT, 3'SL & 6'SL)*1
Product description
---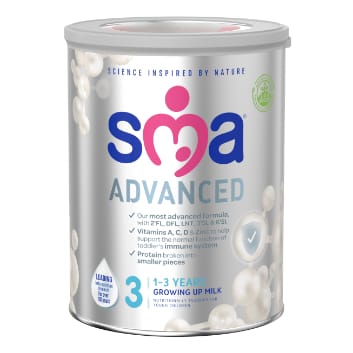 Contains Human Milk Oligosaccharides 2'FL, DFL, LNT, 3'SL & 6'SL.

Contains Zinc and vitamins A, C & D to help support the normal function of the immune system2-4

Vitamin D and calcium to support the normal growth and development of bones5
The first 1,000 days of a baby's life have a life-long impact on many aspects of future health.
SMA® Advanced Growing Up Milk is the first growing up milk to contain our unique clinically proven blend of 5 HMOs (2'FL, DFL, LNT, 3'SL, 6'SL).*1SMA® Advanced Growing Up Milk is enriched with other important nutrients to support toddler's growth as part of a varied balanced diet, up to their 4th birthday. Click here for more information about HMOs.
The latest Irish National Preschool Nutrition Survey highlighted that almost a quarter (23%) of 1 year olds had inadequate iron intake with 70-84% of 1-4 year olds having intakes less than 5µg of vitamin D daily and 17-25% having intakes of less than 1µg daily.6
SMA® Advanced Growing Up Milk is fortified with nutrients to support healthy growth. Use of a growing up milk like SMA® ADVANCED Growing Up Milk can be one way to increase vitamin D and iron with decreased protein intake compared to unfortified cow's milk.7-21
As a percentage of toddlers daily requirement, 2 x 200 ml servings of this growing up milk provides 40% of their daily vitamin D.20
For information on suitability for use in Halal diets please contact the Careline on 0800 081 81 80 (UK).
*As of September 2022.
HMOs: structurally identical Human Milk Oligosaccharides, not sourced from breast milk.
Formats
---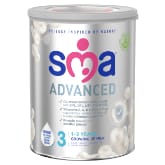 800 g powder
The scoop is provided under the lid. It can be stored in suspension inside the can.
Preparation
---
How to open and prepare your baby's feed – powder (800 g)
While this product is made under strict hygienic conditions, it is not sterile. Failure to follow instructions on preparation and storage may make your toddler ill.

1.
Pull the safety seal and open the lid. The scoop is provided under the lid. Lift the tab, pull on the foil seal, carefully and safely remove the seal and dispose of it.


3.
Measure 180 ml (approx. 6 fl. oz.) of cooled boiled water into a clean beaker.

4.
Using only the scoop provided, add 6 scoops of powder, levelling off each scoop with the back of a clean, dry knife. Store the scoop in suspension inside the can and replace lid.

5.
Place a lid on the beaker and shake well until powder is fully dissolved. Cool beaker under cold running water or in a bowl or jug of cold water until lukewarm, do not immerse the lid. Test temperature by shaking a few drops onto the inside of your wrist.
Feeding guide
---
Feeding guide - powdered milk
Feeding guide from 12th month to 3 years

1 serving = 200 ml

Amount of cooled freshly boiled water

Number of scoops of powder

ml

fl. oz. (approx.)

1 beaker

180

6

6
6 scoops of powder added to 180 ml (6 fl. oz. approx.) water makes 200 ml (7 fl. oz. approx.) milk drink. Young children have different nutritional needs, but after 12 months we recommend a child has around 400 ml of milk per day. You can feed a child up to 2 servings per day depending on their individual nutritional needs. Mix 1 scoop of powder to 30 ml (approx. 1 fl. oz.) of water. Approx. 173 scoops per can. 1 scoop = 4.6 g.
Approx. 29 x 200 ml servings per can.
Important feeding information
---
| | |
| --- | --- |
|   | Do not add extra powder or water to make the feeds stronger or weaker and do not press powder into scoop. Using too much or too little powder can make your baby ill. |
|   | We recommend preparing each feed in individual beaker when required. |
|   | For hygienic reasons, discard unfinished feed in the beaker as soon as possible. |
|   | Made-up milk drink can be poured over cereals and mixed with food. |
|   | Do not alter or add to milk drink unless medically directed. |
|   | Do not warm feeds in a microwave, hot spots may occur and cause scalding. |
IMPORTANT NOTICE:
We believe that breastfeeding is the ideal nutritional start for babies and we fully support the World Health Organization's recommendation of exclusive breastfeeding for the first six months of life followed by the introduction of adequate nutritious complementary foods along with continued breastfeeding up to two years of age. We also recognise that breastfeeding is not always an option for parents. We recommend that healthcare professionals inform parents about the advantages of breastfeeding. If parents choose not to breastfeed, healthcare professionals should inform parents that such a decision can be difficult to reverse and that the introduction of partial bottle-feeding will reduce the supply of breast milk. Parents should consider the social and financial implications of the use of infant formula. As babies grow at different rates, healthcare professionals should advise on the appropriate time for a baby to begin eating complementary foods. Infant formula and complementary foods should always be prepared, used and stored as instructed on the label in order to avoid risks to a baby's health. SMA® ADVANCED Growing Up Milk is suitable for young children from 1-3 years, as part of a healthy balanced diet and it is not a breast milk substitute.