SCIENCE INSPIRED BY NATURE
SMA® ADVANCED Follow-on Milk
Specially designed to help support the infant's developing immune system1-3
A follow-on milk containing iron and designed specifically to meet the nutritional needs of babies from 6 months of age as part of a varied weaning diet.
Product description
---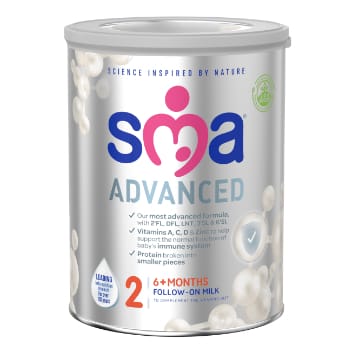 Contains Human Milk Oligosaccharides 2'FL, DFL, LNT, 3'SL & 6'SL.
Significant improvement in infant's gut microbiota and positively influences the developing immune system1.

Contains zinc and vitamins A, C & D to help support the normal function of babies immune system2-4.
Contains protein broken down into smaller pieces (partially hydrolysed 100% whey protein)5

Fortified with iron (which Irish dietary surveys show can be lacking in infant diets4) to help support normal cognitive development5.

Suitable for C-section babies-shown to increase beneficial bacteria in the gut microbiome of infants born via c-section*1
Breastfeeding is the best source of nutrition for infants. In a study which investigated the effects of human milk oligosaccharides on infants gut health, infants fed formula supplemented with 2'FL, DFL, LNT, 3'SL, 6'SL had:1
Higher abundance of beneficial bifidobacteria, including B infantis (one of the predominant species in breastfed infants)†1
Lower abundance of pathogens: Significant reduction in toxigenic Clostridioides difficile, reducing a risk factor for GI infection (C diff diarrhea)†1
Higher levels of secretory immunoglobulin A (sIgA)†1
Higher abundance of beneficial Bifidobacterium in infants born via c-section at 3 and 6 months†1
The first 1,000 days of a baby's life have a life-long impact on many aspects of future health.
SMA® ADVANCED Follow-on Milk is the 1st follow-on milk in the UK & Ireland with 5 HMO blend (2'FL, DFL, LNT, 3'SL, 6'SL ).**8-16Click here for more information about HMOs.
SMA® ADVANCED also contains 100% whey, partially hydrolysed protein, which helps to accelerate gastric emptying and results in softer stools.17,18
As babies start to receive complementary foods at about 6 months, it's important to provide increased levels of these important nutrients to meet infants changing requirements at this stage.
For information on suitability for use in Halal diets please contact the Careline on 0800 081 81 80 (UK).
*At 6 months vs control
†Secondary outcome
**As of September 2022
Formats
---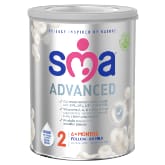 800 g Powder
The scoop is provided under the lid. It can be stored in suspension inside the can.
Preparation
---
How to open and prepare your baby's feed – powder (800 g)
While this product is made under strict hygienic conditions, it is not sterile. Failure to follow instructions on preparation and storage may make your child ill.

1.
Pull the safety seal and open the lid. The scoop is provided under the lid. Lift the tab, pull on the foil seal, carefully and safely remove the seal and dispose of it.

2.
Wash hands well. Wash and sterilise all utensils according to manufacturers' instructions.

3.
Boil 1 litre of fresh tap water. Allow boiled water to cool for no more than 30 minutes. Do not use artificially softened or repeatedly boiled water.

4.
Strictly follow the feeding table. First, pour water into a sterilised beaker or bottle, carefully - it is hot. Then add the powder using only the scoop provided, carefully levelling off each scoop with the back of a clean dry knife. Store the scoop across the inner rim of the can and replace the lid.

5.
Place a lid on the beaker, or teat and cap on the bottle, and shake well until powder is fully dissolved. Cool beaker/ bottle under cold running water or in a bowl or jug of cold water until lukewarm, do not immerse the lid/teat. Test temperature by shaking a few drops onto the inside of your wrist.
Feeding guide
---
Feeding guide - powdered milk
Feeding guide from 6+ months

1 serving = 200 ml

Amount of cooled, freshly boiled water

Number of scoops of powder

ml

fl. oz. (approx.)

1 beaker/bottle

180

6

6
All babies are different but try to ensure that from 6 months to 1 year a baby has 500-600 ml of SMA® ADVANCED Follow-on Milk per day either as a drink, on cereals or mixed with food. Mix 1 scoop of powder to 30 ml (approx.1 fl. oz.)of water. Approx. 173 scoops per can. 1 scoop = 4.6 g. Approx. 29 x 200 ml servings per can.
Important feeding information
---
| | |
| --- | --- |
|   | Do not add extra powder or water to make the feeds stronger or weaker and do not press powder into scoop. Using too much or too little powder can make your baby ill. |
|   | We recommend preparing each feed in individual beakers/bottles when required. |
|   | For hygienic reasons, discard unfinished feed in the beaker/bottle as soon as possible. |
|   | Made-up formulae can be poured over cereals and mixed with food. |
|   | Do not alter or add to formulae unless medically directed. |
|   | Do not warm feeds in a microwave, hot spots may occur and cause scalding. |
|   | Remember, cows' milk should not be used as a drink during the first year. |
References
Bosheva, M., Tokodi, I., Krasnow, A., Pedersen, H. K., Lukjancenko, O., Eklund, A. C., Grathwohl, D., Sprenger, N., Berger, B., Cercamondi, C. I., & 5 HMO Study Investigator Consortium (2022). Infant Formula With a Specific Blend of Five Human Milk Oligosaccharides Drives the Gut Microbiota Development and Improves Gut Maturation Markers: A Randomized Controlled Trial. Frontiers in nutrition, 9, 920362. https://doi.org/10.3389/fnut.2022.920362

EFSA Panel on Dietetic Products, Nutrition and Allergies (NDA). (2014). Scientific Opinion on the substantiation of a health claim related to zinc and normal function of the immune system pursuant to Article 14 of Regulation (EC) No 1924/2006. EFSA Journal, 12(5), 3653.

Mora J, et al. Vitamin Effects on the Immune System: Vitamins A and D Take Centre Stage Nat Rev Immunol 2008; 8(9): 685–98.

EFSA Panel on Dietetic Products, Nutrition and Allergies (NDA). (2015). Vitamin C and contribution to the normal function of the immune system: evaluation of a health claim pursuant to Article 14 of Regulation (EC) No 1924/2006. EFSA Journal, 13(11), 4298.

Czerkies LA, et al. A Pooled Analysis of Growth and Tolerance of Infants Exclusively Fed Partially Hydrolyzed Whey or Intact Protein-Based Infant Formulas. Int J Pediatr 2018; 2018: 4969576.

Irish Universities Nutrition Alliance. National Pre-School Nutrition Survey, Summary Report on: Food and Nutrient Intakes, Physical Measurements and Barriers to Healthy Eating. 2012. Available at: http://www.iuna.net/wp-content/uploads/2012/06/Summary_Report_National_PreSchool_Nutrition_Survey_June_2012.pdf

Domellöf M, et al. Iron Requirements of Infants and Toddlers. J Pediatr Gastroenterol Nutr 2014; 58: 119–29

SMA® ADVANCED Follow-on Milk datacard (accessed March 2023).

SMA® PRO Follow-on Milk datacard (accessed March 2023).

Aptamil Advanced Follow-on Milk datacard (accessed March 2023).

Aptamil Follow-on Milk datacard (accessed March 2023).

HiPP Organic Follow-on Milk datacard (accessed March 2023).

Cow & Gate Follow-on Milk datacard (accessed March 2023).

Kendamil Follow-on Milk datacard (accessed March 2023).

Mamia Follow-on Milk nutritional information on pack (accessed March 2023).

Arla Follow-on Milk product information (accessed March 2023).

Czerkies LA, et al. Int J Pediatr 2018; 2018: 4969576.

Billeaud C, et al. Eur J Clin Nutr 1990; 44: 577–83. 18. Kunz C. Adv Nutr 2012; 3(3): 430S–9S
IMPORTANT NOTICE:
We believe that breastfeeding is the ideal nutritional start for babies and we fully support the World Health Organization's recommendation of exclusive breastfeeding for the first six months of life followed by the introduction of adequate nutritious complementary foods along with continued breastfeeding up to two years of age. We also recognise that breastfeeding is not always an option for parents. We recommend that healthcare professionals inform parents about the advantages of breastfeeding. If parents choose not to breastfeed, healthcare professionals should inform parents that such a decision can be difficult to reverse and that the introduction of partial bottle-feeding will reduce the supply of breast milk. Parents should consider the social and financial implications of the use of infant formula. As babies grow at different rates, healthcare professionals should advise on the appropriate time for a baby to begin eating complementary foods. Infant formula and complementary foods should always be prepared, used and stored as instructed on the label in order to avoid risks to a baby's health. SMA® ADVANCED Follow-on Milk is only suitable for babies over 6 months as part of a mixed diet. It should not be used as a substitute for breast milk during the first 6 months. The decision to start weaning or to use this product before 6 months, should be made only on the advice of a doctor, midwife, health visitor, public health nurse, dietitian or pharmacist, based on baby's individual needs.