SCIENCE INSPIRED BY NATURE
SMA® Xpert ProCol
SMA® Xpert ProCol is a food supplement suitable from birth, that contains clinically proven L. reuteri† cultures1-4
L. reuteri  DSM 17938 is clinically proven to improve symptoms of infantile colic1-4*:
Product description
---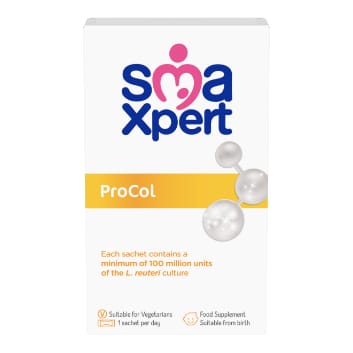 L. reuteri† significantly reduces daily crying time in colicky infants by up to 78%1

L. reuteri† supplementation has been shown to significantly reduce daily fussing times in infants with colic3

When infants with colic are supplemented with L. reuteri† parents indicate improved family quality of life1*#

Each sachet of SMA® Xpert ProCol contains a minimum of 100 million units of the L reuteri culture.
The first 1,000 days of a baby's life have a life-long impact on many aspects of future health.
Colic symptoms are very common in infants and can be distressing for parents5-6. Colic is characterised by recurrent and prolonged periods of infant crying, fussing or irritability. There is no obvious cause and caregivers are unable to prevent or resolve these symptoms5.
1 in 6 families of infants with colic symptoms consult a healthcare professional7.
The infant gut microbiota plays an important role in health8 and an altered intestinal bacterial flora plays a role in the pathogenesis of infantile colic2.
L. reuteri† is a probiotic, live microorganisms that when administered in adequate amounts, confer a health benefit on the host9.
Evidence shows that L. reuteri DSM 17938 is effective and can be recommended for breastfed infants with colic4
Each sachet of SMA® Xpert ProCol contains a minimum of 100 million units of the L. reuteri culture.
Suitable for vegetarians
Available in pharmacies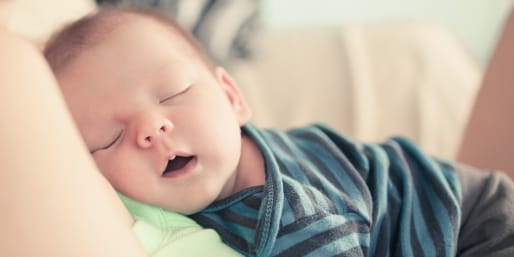 Webinar: Is there a role for probiotics in infant feeding issues?
This free, webinar is designed to support the healthcare professional, exploring current scientific evidence for the role of probiotics in infant feeding issues.
Find out more
L. reuteri - Limosilactobacillus reuteri (formerly Lactobacillus reuteri)
*In exclusively or predominantly (>50%) breastfed infants
†L. reuteri DSM 17938, # Secondary outcome
Formats
---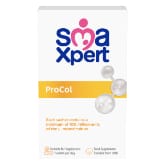 15 X 0.3g sachets
Each sachet contains a minimum of 100 million units of the L. reuteri culture.
Supplier code: 12484374
Comparison charts
---
 
SMA® Xpert Procol
Infacol
Colief
Woodwards Gripe water

Active Ingredient

L. reuteri DSM 17938

Simeticone

Lactase enzyme

Oil of dill herb & Sodium hydrogen carbonate

How it works?

Improved gut function & motility as a result of improved balance of gut microbiota

Anti-foaming agent

Reduces lactose content of baby's milk

Relaxes the tummy, breaking down trapped air bubbles. Relief of wind and gripe.

Age suitability

From birth

From birth

From birth

From 1 month to 12 months

Usage

1 sachet daily

1 dropper full of 0.5ml given before each feed

Add 4 drops to EBM and give on a sterilised spoon before breastfeeding.

Or add 4 drops to warm formula milk, wait for 30mins, shaking occasionally, then feed.

1-6 months – one 5ml spoonful

6-12 months- two 5ml spoonful's, during or after each feed, up to 6 times per 24 hrs.

Evidence for usage

High level evidence from quality RCTs in exclusively or predominantly breastfed infants10,11.

Moderate to low evidence showing no benefit or negative effect10.

Nil RCTs with Colief.

Minimal low quality studies of lactase supplementation in infant colic12.

No clinical data to support using Gripe water in infantile colic.

Format

Satchet

Drops

Drops

Suspension
EBM, Expressed Breast Milk
RCT, Randomised Controlled Trial
Preparation
---
Usage Instructions
Store at room temperature between 10 °C - 25 °C, in a cool dry place, away from direct light.
Use 1 sachet a day. Tear the sachet along the perforated line. Discard after use.

Mix entire content of one sachet with breastmilk of formula feed.

Do not add to hot liquids, ensure the liquid is lukewarm and feed immediately.
References
Szajewska H, et al. Lactobacillus reuteri DSM 17938 for the management of infantile colic in breastfed infants: a randomized, double-blind, placebo-controlled trial. J Pediatr 2013; 162:257-262.

Savino F et al. Lactobacillus reuteri DSM 17 938 in Infantile Colic: A Randomized, Double-Blind, Placebo-Controlled Trial. Pediatrics 2010;126:e526–e533.

Chau K, et al. Probiotics for Infantile Colic: A Randomized, Double-Blind, Placebo-Controlled Trial Investigating Lactobacillus reuteri DSM 17938. J Pediatr 2015; 166:74-8.

Sung V, D'Amico F, Cabana MD, Chau K, Koren G, Savino F, Szajewska H, Deshpande G, Dupont C, Indrio F, Mentula S, Partty A, Tancredi D. Lactobacillus reuteri to Treat Infant Colic: A Meta-analysis. Pediatrics. 2018 Jan;141(1):e20171811.

Benninga M and Nurko, S et al. Gastroenterology 2016;150:1443-1455.

Salvatore S, Abkari A, Cai W, et al. Review shows that parental reassurance and nutritional advice help to optimise the management of functional gastrointestinal disorders in infants [published online ahead of print, 2018 Apr 30]. Acta Paediatr. 2018;107(9):1512-1520.

Drugs and Therapeutics Bulletin (2013) Management of infantile colic. British Medical Journal 347, 1-5.

Savino F Et al. Comparison of formula-fed infants with and without colic revealed significant differences in total bacteria, Enterobacteriaceae and faecal ammonia. Acta Paediatr, 2017 Apr;106(4):573-578

Hill C, et al. Nat Rev Gastroenterol Hepatol. 2014 Aug;11(8):506–14.

Ellwood J, et al. BMJ Open 2020;10:e035405.

Sung V, et al. Pediatrics. 2018 Jan;141(1):e20171811.

Gordon M, et al. Cochrane Database of Systematic Reviews 2018, Issue 10. Art. No.: CD011029. DOI: 10.1002/14651858.CD011029.pub2. Accessed August 2021.
IMPORTANT NOTICE: 
Breastfeeding is best. This product is not a substitute for breastmilk and does not replace a balanced diet. Please advise parents on the appropriate use of this dietary supplement to their child's diet, particularly if there is a health concern or a known immune-compromised condition.